A visual

step-by-step

workflow process with

required columns

and

custom permissions

in each step.
How does it work?
Workflow has 3 major functionalities:
​
Structured Workflow - Set a mandatory order in the status column labels,
e.g: I want every sales opportunity to go through this process:
lead -> qualification -> closure (no way to skip qualification)
​
Required columns per each step, it will not let the user go to the next step without populating selected columns.
e.g you cannot finish the qualification stage without filling the timeline column
​
​
Permission settings to your process, allowing only permitted personnel to perform a specific step.
e.g only manager can approve a special discount
Videos
Decision Trees! (Coming Soon)
Pricing
Pro
5 Boards
8 workflow steps
Enterprise
$1020 per year
($85 per month)
Basic
Frequently asked questions
Can the plans be used by all the account users, or just for specific users?
---
The plans are based on the number of boards and steps that can be configured through the account, no matter how many users use it, or how many actions are performed.
---
Can I configure a workflow for multiple status columns for a specific board?
---
Yes. You can configure as much workflows as needed, one for each status column, for a specific board. The 'Allowed Boards' parameter in your license is calculated per board and not per configured workflow.
---
Can I have more than 1 option to go to from each status? (decision tree)
---
Currently you can only have one option, but we are working on it and it will be available very soon, you can already get a glimpse of how it would look like :) Our next version will allow you to manage complex non-linear workflows with multuple decision trees.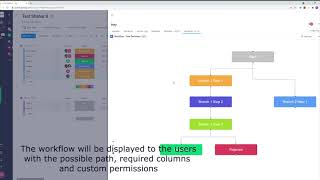 ---
What's a recommended best practice setting?
---
Restrict the status column for editing, this is important as the workflow app main purpose is to dictate a certain process flow, by restricting editing on the status column, board members will have to go through the workflow you set.
---
Why the authentication is required?
---
As the app best practice is to restrict editing of the status column just to one user (the authenticator), we keep a key for each board to be able to edit the status values, even if other users don't have access to update the configured status column. The authenticator can be either replaced or deactivated anytime through the Workflow Configuration view (board view).
---
Why do I have the option to deactivate my workflow configuration?
---
During the 21 trial days, you have unlimited access to the application. After this trial, based on your plans, you can handle a limited number of active configured boards. Using the Deactivate functionality, you can control this number.
---
Is it possible to go a step back in the workflow?
---
From each step it is possible to go to the previous step. The back permissions are identical to the forward permissions at each step. (all users, per person column or for a specific person)
---
What data from our monday account being saved on your end?
---
None of the account, users(other the authKey), teams, or boards data are being saved on our end or outside of monday.com.
Only the configuration data (selected status column

labels,

required

columns names

, and permissions - NOT the actual monday.com account data) using the Workflow Configuration is being saved on our end via MongoDB - which is secured and encrypted.
All the traffic to the backend is secured with TLS 1.2, HTTPS certificate, and HSTS.
All the requests are authenticated and authorized using the monday.com session token and the client secret of the application.
The auth token of the board owner is being saved securely on our end (after his authorization) in order for the app to be able to change the status column while locked
---
How do I install and configure the app?
---
How to install?
 1. Click "Add to your account" on the top right 2. Click Install 3. Click Use App 4. Select Board View->Workflow Configuration 5. Select your Workspace and Board that you want to configure the workflow app on 

How to configure?
Watch this short tutorial or read below: ​ Note: The board view will be used to configure your workflow steps and an item view for the end user to run through the workflow.  1. (Recommendation) Select the Status column you want to configure as your steps, add status labels that will represent the steps, and add *Restrict Edit for you only (only if you are one of the board owners/admins). 2. Go to the workflow configuration board view: +Add View -> More Views-> Scroll all the way down -> Workflow Configuration. 3. Click on the 'Settings' icon on the right, and verify that the Status column from step 1 is selected. 3. On your first board visit, you will be asked to authenticate with monday.com. 4. After the authentication, you will be navigated to the 'Build & Order' tab, Add steps according in the order that you want your workflow 5. Navigate to the 'Configuration' tab, and choose the required columns and permissions for each step. 6. (Optional) Navigate to the Preview tab and see how your workflow looks like. 6. Navigate back to main table, Click on one of the items update section, then click +Add View-> Workflow 7. (Recommendation) Set the created item view as the default view (from the 3 dots on the right) 8. (Recommendation) Add monday.com notification automations on each step to enhance the workflow process. * As you restrict the status for editing in step 1, no one but the authenticator will be able to change the status column from the monday.com board, only from the workflow item view and therefore will be forced to go through the workflow
---
---